Junior High Boys Swat Dighton Hornets
---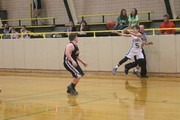 Photo by Cassidy Busse
Ben Busse, Saint Francis sixth grader, throws the ball into play. Thursday's game was the last Indian home junior high basketball game for the season.
---
Our young basketball Sainty Indians swatted the Dighton Hornets Thursday night, December 1. Both of the boys' junior high A-team and B-team fought hard to get two wins. The Indians ended the game with impressive scores; A-team won 53-21, and B-team won 29-19.
The Sainty B-team was on a roll last night. They played well as a team.
"It was fun to win, and I felt like we improved on our shots," said Ben Nelson, Saint Francis seventh grader and B-Team player.
All of the junior high Indians had a chance to play on the court. They showed the crowd what hard working athletes they are.
"I felt like we improved from the last two weeks," said Nick O'Loughlin, Saint Francis head junior high boys basketball coach. "Our bench players have become stronger."
Isaiah Lee, Saint Francis freshman, said the Indians fought hard and deserved their win.
---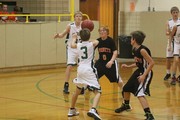 Photo by Cassidy Busse
Vladimir Chinik, Saint Francis seventh grader, passes the ball to Ben Nelson, Saint Francis seventh grader. The B-Team Indians defeated the Dighton Hornets 29-19.
---
Devin Dinkel, Saint Francis high school basketball assistant coach, said there was a noticeable height difference between the two teams.
"We could tell early on that Saint Francis used its height and athletic ability well," said Dinkel.
The Indians worked as a team, resulting with the win.
"Both teams had fight and an intense pace," said Jayden McGinnis, Saint Francis freshman. "They worked really hard."
Rodney Yates, Saint Francis assistant junior high boys basketball coach, said the team played better than Tuesday night because they were more engaged.
"I feel like we do better every day, but we're still not where we want to be," said Yates. "Our focus is to get better."
The junior high boys will take on the Buffaloes in Atwood on Thursday, Dec. 8 at 4:30 p.m.