Junior High Lady Indians Get Stung by Hornets
---
Photo by Seth Mills
McKenna Poling, Saint Francis seventh grader, gets the rebound in the A-Team game against Dighton. The A-Team Lady Indians lost their last home game, 22-43.
---
The junior high Lady Indians A and B-teams both fell short to the Dighton Lady Hornets and lost their games. A-Team's final score was 22-43 and B-Team's final score was 17-25.
Saint Francis Junior High Head Girls Coach Ted Busse said he felt the girls didn't play as well as they have been playing.
"They didn't play with the intensity or hustle that they usually do," said Busse.
Jessica Confer, Saint Francis sophomore, said Dighton was a tough team.
"They played well and aggressively towards a good Dighton team but came up short of the win," said Confer.
ShayLinn Zweygardt, Saint Francis junior high girls assistant coach, said even with the loss, they are proud of their team.
"They worked hard and played together, even though they didn't win," Zweygardt said. "We are proud of them and will continue to work hard to get better."
Thursday's game was the last home game for junior high basketball. The Lady Indians will take on the Buffaloes on Thursday, Dec. 8 at 4:30 p.m. in Atwood.
---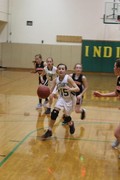 Photo by Seth Mills
Hadleigh Hilt, Saint Francis seventh grader, dribbles the ball down the court in the B-Team game against the Hornets. The B-Team Lady Indians lost 17-25 to Dighton
---