St. Francis Takes 9th in Gabel/Jenkins Invitational
---
Photo by Cameron Sulewski
Tiernan Poling, Saint Francis sophomore, wrestled 2-2 and placed 4th in the 132-pound weight class. Poling scored 11.0 team points at the Gabel/Jenkins Invitational.
---
Writes History with First Female Wrestler
St. Francis hosted the annual Gabel/Jenkins Wrestling Invitational on Saturday, Dec. 3. Attendance reached 400 people from 13 different communities as the Saint Francis Indians took 9th place as a team, with only six competing wrestlers. Saint Francis had two other Indian wrestlers compete at the Goodland Junior Varsity Invitational at the same time. For the first time in Saint Francis history, one of the wrestlers was a female, freshman Perla Yanez.
"It feels really cool to be the first girl," said Yanez. "It feels like I've accomplished something that other girls haven't tried because they think it's just a sport for guys."
Yanez said she wrestled for two years in fourth and fifth grade and likes that it's a real contact sport.
"I like that it's more of a contact sport because you can actually get your anger out," she said.
Yanez placed fourth in the 106-pound weight class in the junior varsity tournament.
"I think I could have done better, but I tried very hard in every match," Yanez said.
---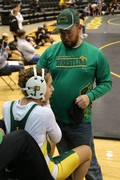 Photo by Rogie Wiswell
Seth Swihart helps Perla Yanez, Saint Francis freshman with her headgear at the JV tournament in Goodland on Saturday. "It was really hard to put on my headgear when my hair was put up because it kind of hurt my ears and I just kept it on the whole time because it was difficult to get back on," Yanez said.
---
Dylan Loyd, Saint Francis head wrestling coach, said it's different to have a girl on the team, but in a good way.
"The first day of practice, she was the first one there," Loyd said. "The sport has evolved and there are many equal opportunities for guys and girls. She's tough and going to have a good season."
Yanez is hoping she can encourage other girls by wrestling for Saint Francis.
"I think girls should try out for anything they want. Because if they don't, they won't know if they ever like it. By trying out, they could start to enjoy the sport," Yanez said. "It's different to hang out with boys a lot, but when I'm with my teammates they treat me like family."
Seth Hilt, Saint Francis freshman, placed second in the 195-pound weight category at the Goodland JV wrestling tournament.
At the Gabel/Jenkins Invitational in Saint Francis, Tiernan Poling, Saint Francis sophomore, earned fourth place in the 132-pound weight category.
Trayton Doyle, Saint Francis junior, with a 1-1 score placed second in the 220-pound weight category.
"It's tough losing your last match. Because when you end the day on a sadder note that's what you have to build off of for the next for the time," said Doyle.
---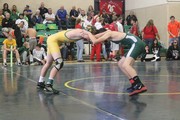 Photo by Cameron Sulewski
Cody Baxter, Saint Francis sophomore, wrestled 1-2 in the 160-pound weight class at the Gabel/Jenkins Invitational on Saturday, scoring 2.00 team points.
---
Kouper McQuigg, Saint Francis sophomore, had a 0-2 score at the tournament but said he gave a solid effort. "It went terrible. I had to wrestle seniors and I got caught," said McQuigg. "It means you lost. If you put them in a headlock and do the wrong move, you get caught."
McQuigg said the Saint Francis team was at a disadvantage going into the tournament because they'd only had eight practices.
"Everybody else did not advance as far in football, so they have had more time to prepare," McQuigg said. "This year because we made it to state, I only had one week of practice."
Loyd said they break up the season into three parts and slowly build to avoid injury.
"With eight guys if you really start pushing early you risk injury," Loyd said. "We can't afford injury so we slowly build. You always want to do better and finish higher but right now we slowly want to build and before we met with the guys we said we wanted to see a fight and compete. We felt the kids did that and that's something you have a hard time teaching kids how to compete. We only lost to either conditioning or technique and those are both things we can teach. Heart isn't something you can teach and we have that moving forward."
Saint Francis will wrestle in the Badger Invitational in Limon, Colo. on Saturday, Dec. 10.
Click the middle photo to see more photos!