The Indians Played Well Against the Dundy County Tigers
---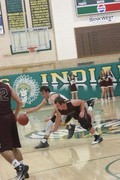 Photo by Echoe Lennox
Saint Francis Senior Brock Waters dribbles past the Dundy County defense. The varsity boys won the game 56-43.
---
The Saint Francis basketball teams played against the Dundy County Tigers, a team that frequently returns to the Nebraska State Basketball tournament, on Friday, December 16. The Indian girls and boys went into the games knowing it would be a tough one.
The girls varsity team played hard, but lost 42-74.
"The game was really tough, but we learned a lot from it and we're going to take what we learned and apply it to another game." said Karly Bandel, Saint Francis freshman.
The junior varsity Indian girls won 32-14.
---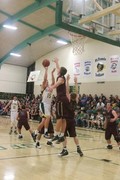 Photo by Echoe Lennox
Dalton Straub, Saint Francis junior, puts the ball up for two points in the varsity game against Dundy County.
---
"When we were dribbling down the court, we had our eyes up for the fast breaks and that helped us," said Lauren Johnson, Saint Francis sophomore.
Madison Tice, Saint Francis junior, said she thought this year is starting off better than last year. "I think this year is going better because we are more of a team due to playing summer basketball and spending more time together this summer," said Tice.
The junior varsity Saint Francis Indian boys lost to the Tigers Friday night, 19-51.
"I was pretty excited that I made my first two points this year, and it's fun working with the boys," said Bryce Raby-Culwell, Saint Francis sophomore.
The varsity boys sealed the night with an Indian victory, 56-43.
---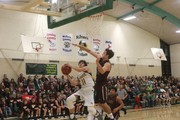 Photo by Echoe Lennox
Tate Busse takes the ball to the basket.
---
"It was fun because they thought they were going to come in and roll us but they didn't," said Brady Dinkel, Saint Francis freshman.
The game started with a technical foul on Dundy County because they dunked during warm up. The Indians started the game with the lead and never let go.
"I thought the boys did very well. The offense could have been a little better, but that will come with time," said Devin Dinkel, Saint Francis assistant boys basketball coach.