Second Strike on Idalia by Lady Indians
---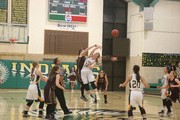 Photo by Jaron Berig
Hanna Bracelin, Saint Francis junior, jumps up for the ball against Idalia Friday night. The Lady Indians defeated the defending Colorado state champions, 52-36. "My team was successful because we worked together," said Lindsey Johnson, Saint Francis sophomore. "We communicated loud and started out strong from the beginning."
---
The Saint Francis Lady Indians came away with two victories against Idalia Friday night. The junior varsity Lady Indians defeated the Wolves 35-10 in two quarters and the varsity girls came away with a win 52-36.
"It was fun to beat the two-time Colorado state champions by more than 20 points because it's a huge confidence booster for us girls and it shows how hard we've really worked," said Reagan Beims, Saint Francis junior.
Karly Bandel, Saint Francis freshman, said the team knew going into the game that Idalia lost a lot of players this year so if they worked hard as a team the Indians could come out with the win.
"They did have some three-pointers that were a big threat," Bandel said.
Emileigh Dinkel, Saint Francis junior, said Idalia played a good game.
"The energy from the crowd was really high so everyone started playing awesome," said Alondra Gomez, Saint Francis freshman. "The first two quarters we were starting to be lazy but by halftime we rocked."
The Lady Indians play again at home Tuesday, January 10 as they take on Weskan Coyotes.