Children Learn About African Culture Through a Drum Dance
---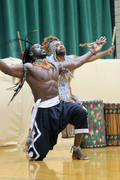 Photo by Audrey Meyer
Performers educate Saint Francis Community Elementary School students about African culture at an all school assembly on Thursday, January 12.
---
The performance started with a colorfully dressed man who waved to everyone in the room and wore a smile that almost touched both ears. He began to beat his drum with a rhythm that echoed inside your chest. The sound was so powerful the children could not help but listen.
Soon there was a different, higher-pitched drum being sounded off in the distance.
The men were African drum dancers performing at St. Francis Elementary School on Thursday, January 12.
The curiosity and excitement of the children skyrocketed; they were all now hooked. Another man walked in with a drum that was half his size. He also had a cheerful smile that welcomed everyone.
Aiden Meyer, first-grader, said, "I liked the littlest one with the drum that said, 'hello!'"
The two men played joyfully on their drums as a third man ran out and danced to the beat. His long braided hair flew up and down as he danced around the room, jumping over the drum, showing off his muscles and high-fiving little kids.
Trace Whitney, first-grader, said, "I liked the part when he jumped up and touched the [basketball] hoop."
All three men stood in a line comparing muscles. The children laughed as the men scoffed at each other. The biggest man, without a drum, ended up raising his hands in victory while the kids cheered for him.
Ty Whitney, kindergartner, said "I liked the part when he moved his (pectoral muscles)."
The man then stood up and taught them different facts about where he lived in Africa as well as phrases in his language.
Ty Whitney said, "I learned 'yes, yes!'"
From then on, every time the children learned something they said, "yes, yes." The children of Saint Francis Elementary School can now tell you how many languages are spoken in Africa, as well as, the number of countries in the continent.
The performance was a global lesson the children won't soon forget.
Dawson Rose, fifth-grader, said, "I got to high-five all three of them!"