Junior Varsity Boys Indians Hunt Down the Coyotes
---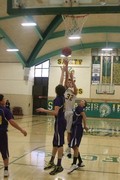 Photo by Jessica Confer
Draven Houtman, Saint Francis sophomore, goes up for two points against the junior varsity Weskan Coyotes on Tuesday night at home. Saint Francis won the junior varsity game 37-28.
---
The junior varsity boys started the game out right by getting in the lead quickly against the Weskan Coyotes. The boys worked hard for the lead and kept it, ending the game with a win, 37-28, on Tuesday night.
Isaiah Lee, freshman, said, "We listened to Coach [Dinkel] and remembered the fundamentals." Lee said he believed these are the key reasons they played so well.
Conner Keller, sophomore, said, "We dominated in both offense and defense so we were able to stay ahead."
Lee also said, "We dominated because we got the ball and decided to GO GO GO!"
That they did, and easily beat the Coyotes.
---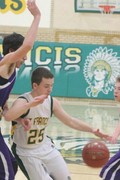 Photo by Jessica Confer
Bryce Raby, Saint Francis sophomore, dribbles the ball down the court through the Weskan defense in the junior varsity game Tuesday night.
---
Keller said his favorite part of the game was "just getting the 'dub' (win)."
Many people look forward to seeing them work hard in the future and gain more 'dubs.'
Saint Francis fan Traci Price said, "I really enjoy watching the players on the team be at a point where each of them can work well with almost anyone on the team. I could think of countless other teams where if a sub went in, the team would fall." Saint Francis holds strong and manages to keep their team a family.