Junior Varsity Boys Lost to the Buffaloes
---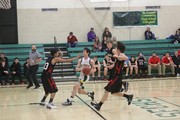 Photo by Dakota Morris
KC Krien, Saint Francis sophomore, drives the ball in for two for the Indians. The junior varsity Indians lost to the Atwood Buffaloes on Tuesday, Jan. 24.
---
On January 24, the Saint Francis junior varsity boys lost at home 40-49 to the Rawlins County Buffaloes.
Bryce Raby-Culwell, Saint Francis sophomore, said he thought the Indians could have beat the Buffaloes if the team would have been more focused.
"I think we could have beat them if we were a little more concentrated," said Raby-Culwell. "I feel like we didn't play with our head in the game. We should have been a little more focused in warm up."
The Rawlins County Buffaloes had several people on their roster with heights reaching 6' or taller. The Indians have two junior varsity players taller than 6'.
"We hustled and fought hard, they just had too much of a height advantage inside," said Devin Dinkel, Saint Francis junior varsity coach.
Rawlins County has a history of rivalry with Saint Francis because of the Yoke Bowl that annually gets awarded to the team that wins the football game. This fall the Indians defeated the Buffaloes and the yoke remains at Saint Francis Community High School.
St. Francis Freshman Brady Dinkel said, "It was a fun game to play in because it was against a rival."