The Indians roll over the Sharon Springs Wildcats
---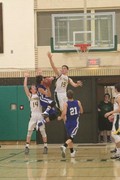 Photo by Katie Schmid
Dalton Straub, Saint Francis junior, blocks the Wildcat basket midair with the help of teammate Brady Dinkel, St. Francis freshman.
---
On Tuesday, February 21 Saint Francis Seniors Brock Waters, Quinton Cravens, Taylor Rogers and Jeremiah Neitzel played their last basketball game on their home court. Seniors were recognized with their parents before the varsity boys game.
"It's kinda weird thinking it was the last time, but it was a good way to go out." said Waters.
Rogers agreed with Waters.
"It was kind of emotional because it was my last game ever at home." said Rogers.
The Indians started off with the lead and going into halftime were up by 13. The Wildcats came out hot and had momentum, which started to make the Indians a little nervous but the Indians finally shut them down with a victory of 87-53 against the Wildcats.
---
Photo by Katie Schmid
Tate Busse, Saint Francis junior, puts up the ball for two for the Indians. Busse scored 29 points in the game against the Wildcats.
---
"The team all played well against Sharon Springs and they all played with heart." said Cravens. "Lots of people were there so it was fun, especially to beat Sharon Springs by that much after getting our butts whooped the last three years."
The Indians set a new school record for most wins in a season. "It's a huge accomplishment," said Neitzel. "The night was fun and emotional but it was a blast to play."
Scorers for the Indians against Sharon Springs included Tate Busse 29, Brock Waters 22, Quinton Cravens 20, Brady Dinkel 7, Jeremiah 4, Taylor Rogers 3 and Dalton Straub 2.