KSPA Regional Journalism
---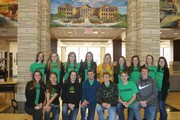 Courtesy Photo
Saint Francis Community High School KSPA regional team who traveled to Fort Hays the end of February. Seventeen students placed in 18 categories and are going to state competition at the beginning of May at the University of Kansas.
---
The Saint Francis Community High School regional journalism team was filled with new faces this year. This mix of students made for some fun encounters on the trip to the Kansas Scholastic Press Association regional competition. The team departed from the high school at 5:45 a.m. on Thursday, February 23 for Fort Hays State University.
Sophomore Connor Keller had an interesting experience when he accidentally made his editorial cartoon about the wrong part of the prompt they gave him. Without flipping over the sheet they handed Keller, he automatically assumed that the front of the sheet was what he was supposed to draw. Upon finishing his masterpiece, Keller relaxed back in his chair only to find that on the back of the paper handed to him was more details he was expected to include in his cartoon. After having this realization he lept into action. Keller, with 30 minutes remaining redrew a far more detailed depiction of what was on his prompt. "I was pretty nervous when the whole thing was going down," said Keller, "but I still had a lot of fun when I was competing."
The regional journalism team did admirable work at the competition, placing in 18 categories. Many students will be continuing on to state. Students from SFCHS were awarded every place possible.
Students who placed honorable mention and going to state are: Reagan Beims in Sports Writing, Cassidy Busse in Sports Writing, Connor Keller in Editorial Cartoon, Jaron Berig in Infographics, Shelby Wolff in Editorial Writing, Alondra Gomez in Academics Photography, as well as Jenna Confer in Yearbook Theme and Graphics.
Jenna Confer is a four-time annual state competitor for KSPA. "It's been an honor to go to the KSPA state competition each year. I'm hoping this year will be my year to place. It's a great experience to go and see how I'm ranked with other journalism students in Kansas."
Students who placed third place and going to state are: Katie Schmid in Copy Editing, Reagan Beims in Headline Writing and Design, Dakota Morris in Academics Photography, and Seth Mills in Infographics.
Katie Schmid said she is excited to compete at the state level again this year. "It is my third year qualifying for state," Schmid said. "It is always exciting to find out results and take that trip to state. It's a huge honor to have such an experience."
Students who placed second and going to state are: Emmalee Archuleta in Cutline Writing, and Madison Tice in News Page Design.
Students who placed first pace in their competition and going to state are: Jessica Confer in Yearbook Copy Writing, Audrey Meyer for Feature Writing, Tayton Weeter in Advertising, Jake Faulkender in Photo Illustration, and Brice Raby-Culwell in Sports Photography.
This group of students will depart from the high school Friday, May 5 for Lawrence, Kan., to compete at the state KSPA contest at the University of Kansas.