Indians Win At St. Francis Invitational
---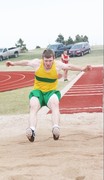 Mark it. Ryan Grover, Saint Francis senior, sticks his landing in the long jump. Grover placed eighth and got a jump of 16'9" at the Saint Francis Invitational. Grover said, "For the first time I've done long jump, I was pleased with it and I'd like to do it again."
Photo by Bryce Raby
---
The Saint Francis track and field team competed well in the cold weather at their 50th annual meet held in Saint Francis. They boys' team brought home the gold with 132 points to place first, the second place team was Dundy County with 115 points. The boys' team had several first placers at the meet including Jordan Raby, sophomore, 100m dash; Taylor Rogers, senior, 200m dash; Brady Dinkel, freshman, 800m run; and the 4x100m relay, and 4x400m relay comprised of Jordan Raby, sophomore, Tate Busse, junior, Wyatt Hackler, junior, and Taylor Rogers, senior. "It is cool knowing that the same people who can run a 4x100 well can run the 4x400 just as good," said Rogers.
The girls also competed well to place fourth with 66 points. For the girls first placers, there was the 4x400m relay which included Hannah Zimbal, freshman; Taighe Weeter, freshman; Madison Tice, junior; and Reagan Beims, junior. "It is a confidence booster when you come into a meet ranked fourth or fifth but end up getting first and beating other teams by 20-50 meters," said Beims. "It is fun to win, but at the Saint Francis Invitational Meet it was hard to compete because there were only two teams so we had to run against ourselves."
Being halfway done with track season, the teams are looking forward to more competition and meeting more teams. "It makes me feel proud that I can compete with upper classmen coming in as a freshman. The training that we do sucks, but in the end it shows results and it's worth it and I am excited to see where I can go," said Dinkel.
The track team will compete at the Colby Invitational on Friday, May 5 and will be competing at regionals in Hays on Friday, May 19.