Lady Indians fall short in tri at home against Atwood, Wauneta-Palisade
---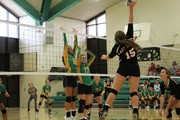 Photo by Jake Faulkender
Saint Francis Juniors Lindsey Johnson and Jessica Confer jump up to block the spike against Atwood. The Indians lost both games to Atwood at home.
---
The Saint Francis High School volleyball team played both Atwood and Wauneta-Palisade on Thursday, Sept. 7. The Indians were narrowly defeated by both teams.
"[Atwood] fought hard" said Saint Francis Senior Emileigh Dinkel, "It was a tough few games."
The girls played two games against Atwood. They came within points of winning both brutal games with the final score being 20-25 in the first game and 27-29 in the second.
"Wauneta-Palisade had a strong hitter that could really put the ball away if they got down. But overall they were a scrappy team. Even though we didn't get the win, I thought we all played our hardest and fed off of each other's energy to keep going and not give up," said Junior Jessica Confer after playing (WP) for the third time.
The final for the first game against Wanueta-Palisade was 25-18, a strong victory for Sainty. The second game ended with a score of 19-25. During the second game, the girls lost some momentum and couldn't regain it before the final game. This left the teams tied and the last game ended 14-25, a loss for Sainty.
"We had tough competition and I know it prepared us for the future," said Saint Francis Senior Madison Tice. "We know that with this rough loss we will be more able to compete at a higher level later in the season."
The Lady Indians followed up the losses with a second place finish at the Gove County Tournament on Saturday. The Indians placed higher on Saturday than they ever have in the tournament in SFCHS history.
The Lady Indians will play their next home game on Tuesday, Sept. 26 against Cheylin and Oberlin at 4 p.m.