Friday Night Lights: Indians took down Titans; King, Queen Crowned
---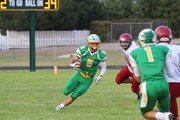 Photo by EmmaLee Archuleta
Jordan Raby looks for an opening to drive the ball across the goal line in the homecoming game.
---
Homecoming week culminated with a big win and the crowning of royalty.
THE BIG GAME
St. Francis Indians defeated the Titans of Triplains-Brewster by halftime. The Indians shut out the Titans 56-0 at the homecoming game.
"I did expect the victory at the homecoming game," said Rodney Yates, Saint Francis head football coach. Yates also said the team focused on outperforming their competition. "This game was a good step moving forward in the season."
Senior Trayton Doyle said the football team is trying to be better than they were last year.
---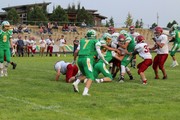 Photo by EmmaLee Archuleta
The Indians refused to let the Titans advance.
---
"We need to go against better teams to prepare us for the playoffs because these games aren't helping us get ready," Trayton Doyle, Saint Francis senior, said. "We always go in expecting the teams to be good and try not to underestimate them."
Junior Jordan Raby said he has a personal goal of beating the school record and scoring six touchdowns in one game. However, after playing two shutout games, his goal could be difficult to accomplish when the team only gets to play half a game.
"We were really good at focusing," Jordan Raby, Saint Francis junior, said. "I am ready to get back to the state championship."
Luke Lampe, Saint Francis senior, said every win has an extra importance to him because it's his last year to play high school football. "Hopefully we get back to where we were," he said.
KING AND QUEEN CROWNED
At the end of the game, the pom squad danced their halftime performance to the song "HUMBLE." by rap artist Kendrick Lamar. After the pom squad's performance, the homecoming candidates made their way to the field.
---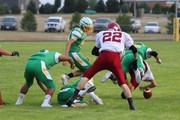 Photo by EmmaLee Archuleta
The Indians force a fumble as Junior Tayton Weeter tackles the Titan carrying the ball
---
The homecoming candidates consisted of Dalton Straub, Madison Tice, Luin Norris, Jylian Laten, Tate Busse, Emileigh Dinkel, Nikolai Paulsen, Hanna Bracelin, Reagan Beims, and Jake Faulkender. Madison Tice became the Homecoming Queen and Tate Busse was crowned Homecoming King.
"I was very excited that I won homecoming queen," said Senior Madison Tice. "It is an honor to be elected by your peers."
Homecoming meant a variety of things to some of the SFCHS students.
"Homecoming to me means a time to have fun and look forward into the year," said Sophomore Jaron Berig.
Emma Johnson, St. Francis freshman, said homecoming means school spirit and supporting the team while having a good time with your friends.