The Sainty Indian Junior High Football team loses a tough battle against the Dighton Hornets
---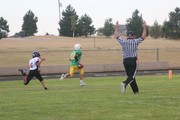 Photo by Cassidy Busse
Saint Francis Seventh Grader Ben Busse runs the ball in for a touchdown. The Indians lost the game 20-64.
---
On Thursday, Sept. 14, the Sainty Indian Junior High football team fell short against the Dighton Hornets on the Indians' home field, with a final score of 20-64.
The Indian boys fought hard by scoring the first touchdown. Ben Busse, Saint Francis seventh grader, ran the ball in for six, but the Indians did not make it into the end zone for the extra points. The Dighton Hornets followed suit when scoring a touchdown in the early part of the game, and they were also victorious with receiving the extra points.
The Indians fought hard, with Preston Witzel scoring a passing touchdown before halftime, but the Indians were beginning to lose momentum. The halftime score stood at 14-28.
The Indians would go on to only score once more in the game when Witzel threw a pass to Busse.
---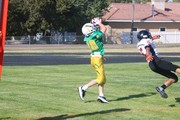 Photo by Cassidy Busse
Preston Witzel, Saint Francis seventh grader, catches the ball for a touchdown. The Indians played the Dighton Hornets Thursday, Sept. 14.
---
"We never give up," said Witzel. "And we play great as a team, but we still need to work on our defense some more."
Busse said his favorite part of the game was when Eli Mills, Saint Francis eighth grader made a good tackle. "It was a great play."
Overall, Busse said he saw the team improve some from the last game, "but we need to keep getting better."
The Indians play Rawlins County Thursday, Sept. 21, in Atwood.