Jake Finishes 13th
---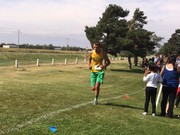 Photo by Melissa Poet
Jake running in the Stanton County Meet.
---
Jake Faulkender took to the course last weekend at the Stanton County meet with the purpose of improving for the Regional Meet that will be in October. While his time of 19:12 wasn't his fastest of the season, Faulkender believes that it was solely because of the wind. The course was mostly flat with one or two steep hills that were very physically demanding and had to be ran twice during the race. The varsity boys race had 93 participants from around the state, and Faulkender earned a 13th place finish.
"There were a lot of big schools, like 4A-6A schools, that really made me dig deep to stay with the top 15," said Faulkender when asked about the race. Faulkender races Saturday, September 30th in Syracuse.