The Loss of the Yoke
---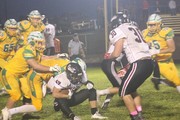 Photo by Echoe Lennox
Sainty defensive players stop the Atwood Buffaloes on the play.
---
"Our heads just weren't in the game," said SFCHS Senior Luke Lampe, "We didn't come out to play like we should have."
October 6 at 7:10 p.m. the Indians kicked off a brutal battle against the Atwood (Rawlins County) Buffaloes. With the final score being 32-40, the Saint Francis Indians would suffer their first loss of the season. The Indians are still in the playoffs as of right now but only time will tell if they remain.
"We had a good game," said Luin Norris, Saint Francis senior. "The rain kinda threw everyone off... we we came out flat and once we finally picked it up it was good in the second half. It was what it was."
---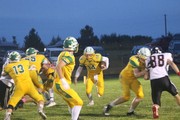 Photo by Echoe Lennox
Sophomore Brady Dinkel aims for the hole in the line to advance the Sainty ball. The Indians lost the Yoke Bowl, the name of the annual contest between Atwood and Saint Francis.
---
The loss to Atwood resulted in the loss of the Yoke trophy, which Saint Francis had displayed in the cafeteria for the last two years. The trophy, which was created in 2008, represents the relationship of the two agriculture communities and the winner of the annual contest displays the yoke at their school until the next year's contest.
The team pondered the loss and made a list of reasons they believe they couldn't hold onto the Yoke Bowl trophy. The list included coming out "flat" and not slowing the amount of turnovers. Two fumbles and two interceptions were arguably contributing factors. "Turnovers really killed us, I think the rain and the wet weather really got us out of rhythm," said Junior Connor Keller.
The Indians will return to their field on Oct. 27 to face the Trego Golden Eagles.