SFCHS Yearbook Staff Travels to Topeka for Conference
---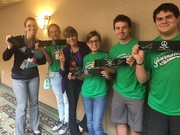 Courtesy photo
Saint Francis Students pose with Mary Beth Tinker who signed symbolic black armbands at the KSPA fall conference. Tinker was suspended from school for wearing a black armband in 1965 because it silently protested the Vietnam War. The case went all the way to the Supreme Court where they decided students don't lose their freedom of speech rights just by walking through the school doors.
---
Twenty-five years ago, the Kansas Student Free Press Act was passed in Topeka. The SFCHS yearbook staff traveled to Topeka to celebrate this anniversary at the annual fall conference hosted by the Kansas Student Press Association. During the conference, the 2016 SFCHS yearbook won second place for the book overall in 1A.
While in Topeka, the students met activist Mary Beth Tinker who was instrumental in the Supreme Court "Tinker v. Des Moines" case where it was determined that students do not lose their freedom of speech rights when they walk through the school doors. Students also heard from the "Pittsburgh Six" journalists who uncovered their new principal received her degrees from a diploma mill. Their research resulted in the principal resigning.
The conference also had a series of classes on how to be a journalist in our world today. The SFCHS staff learned things like branding, yearbook themes, how to be an editor, photography, how to put stories together, and many more fun and exciting things. But for most of the staff, they looked forward to an opportunity to bond as a staff.
---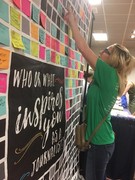 Courtesy photo
Echoe Lennox, Saint Francis junior, posts what inspires her as a journalist. Music inspires Lennox.
---
Every student got to learn something unique about journalism.
"The most important thing I learned is that there are always people willing to hear our voices. Young journalists are influential even when not everyone is willing to hear us. We still have such a huge impact on people if we really want to have one," said Junior Echoe Lennox.
Other students got to learn about how the media and current events affect the world of being a young journalists. "It changes by the days. A few months ago it was the election. A few years ago it was ebola. A decade ago it was the fall of the Twin Towers. Our world is constantly changing. A true journalist has the skill to move as the clock ticks," said Saint Francis Sophomore Audrey Meyer. "By becoming a journalist, young people are correctly spreading stories around the planet."
Jake Faulkender, senior, said he really enjoyed hearing the National Geographic photographer Jim Richardson. "I thought he had a lot of cool things to say like how he decides from two very similar pictures. It's overwhelming to hear he takes 40,000 images for each assignment and then he narrows it down to 10-15 to submit."
---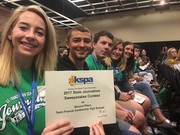 Courtesy photo
Wigwam staff members pose next to the award they received at the KSPA fall conference for the yearbook overall. Saint Francis placed second in 1A.
---
Conference attendees included: Echoe Lennox, editor-in-chief; Audrey Meyer, academics editor; Jake Faulkender, co-photo editor; Bryce Raby, co-photo editor; Cassidy Busse, sports editor; yearbook staff members CJ Sherman, Shelby Wolff, and EmmaLee Archuleta, and Rogie Wiswell, adviser.