Faulkender Claims Individual 2A Regional Championship
---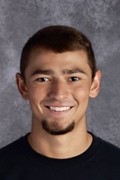 ---
Sacrifice, training, and heart propelled SFCHS cross country runner Jake Faulkender to a regional championship on Saturday. While the course was familiar, the cold and wind paired up to make it a different race than Faulkender has faced in Tribune. Being the fourth race of the day gave Faulkender a chance to cheer on other runners in the 1A races and size up his competition. Faulkender toed the line in his starting box among a field of 56 2A runners from around the region. On paper he was ranked number one by 12 seconds, but paper doesn't matter once the starter's gun fires. Faulkender immediately raced out to a familiar pace and place. He ran with the front group of five runners for the first half of the race as they steadily increased their lead over the rest of the field. It came down to a foot race the last 100 yards and .14 of a second. "I was just really not expecting Bierman to come up from the back," Faulkender commented. Faulkender held him off with a lean at the finish capturing first place with a time of 18:33.13.
Faulkender's family was busy running around the course encouraging him as he ran his 5k race but was present at the finish line to help him celebrate qualifying for the State Cross Country Meet. Coach Amber Faulkender said, "It has been unbelievable coaching not only for my son, but in a sport that I did not have any experience. It is one of those sports you can get hooked on. The athletes and parents are just different, very complementary and everyone knows each and every runner is giving all they have." Preparing her son for this cross country season was different that last year as he chose to focus and invest his training on only one sport this fall. His training and hard work paid off as Faulkender left no question that he wants one more race before hanging up his high school cross country shoes. After placing 17th last year in the 1A race, his goal for state is to place in the top five. Faulkender will run at the Wamego Country Club in the 2A State Championship on Saturday, October 28th at 10:35 a.m.
Stay tuned to SFCHS Booster Club media for details about a state send off for Faulkender.
Click here to view complete results of 2A boys Regional.
Click here to view complete results of 2A girls Regional.
Click here to view complete results of 1A boys Regional.
Click here to view complete results of 1A girls Regional.
Click the lower photo to see more photos! Photos by Amber Faulkender.