B Team Boys Win in Dighton
---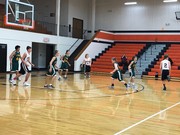 ---
The junior high boys basketball teams traveled to Dighton on Thursday, November 16, to play the Hornets. The teams returned with one victory. The B team defeated Dighton in an exciting game 30-26. The A team boys lost to the Hornets 12-47. The C team boys battled Dighton to a 1-1 tie in a 10-minute running-clock contest.
In the A team game, St. Francis failed to score in the first period. Dighton scored 20 in the period; mostly from close range. In the second period, St. Francis received two treys from Preston Witzel and a free-throw from Ben Busse to trail 7-30 at halftime.
The Indians did not score in the third period, and Dighton extended their lead to 7-41. In the fourth period, the Indians earned two free-throws by Witzel and a trey by Jordan Smull. The Indians lost to a good Dighton team 12-47.
St. Francis was led in scoring by Preston Witzel with 8 points. Jordan Smull added 3 and Ben Busse 2. Dighton was led by Bauer with 24 (14 in the 1st period and 8 in the 2nd period).
St. Francis won a close B team contest 30-26. Preston Witzel and Ben Busse scored all of the points for St. Francis.