Girls Lose to Dighton
---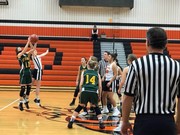 ---
The junior high girls basketball teams were defeated by Dighton on Thursday, November 16. In games played in Dighton, the A-team girls lost a hard-fought contest 31-34. The B-team girls also lost to Dighton 22-27. The C-team girls played a 10-minute running-clock contest, that ended in a 10-10 tie.
In the A-team contest, St. Francis trailed 9-24 at halftime. Dighton's Cramer scored 13 points in the half. The Lady Indians battled back in the second half and had several opportunities to tie the contest, but lost 31-34.
In the B-team game, St. Francis completed well but lost 22-27.
Molly Gilliland scored all 10 of St. Francis' points in the C-team contest.