Great Start to the Season
---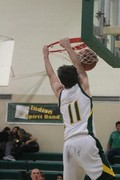 Photo by Echoe Lennox
Senior Tate Busse dunks the ball against the Quinter Bulldogs. Busse dunked three in the game and scored a total of 27 points against the Bulldogs.
---
The Saint Francis varsity boys basketball team opened up their season with an outstanding win against the Quinter Bulldogs on Friday, December 1, at home. It started out a little slow with the Bulldogs ahead, but once the Indians got warmed up and ahead there was no turning back. The junior varsity boys had a two quarter game and won 18-13. The Indians got ahead in the beginning and stayed ahead.
KC Krien, junior, said "the game started out slow, but once we got ahead we stayed there. I think the team played really well on Friday. We practice how we play and you could really see that on Friday night. We are very excited to start the season with a win and hopefully come out on top."
Wyatt Hackler, senior, and Tayton Weeter, junior, both agreed it was hard not being able to play as they are out due to injuries. Weeter said, "I love watching the team win with or without me. I just wish I could be out there with my buds."
---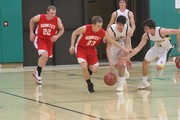 Photo by Echoe Lennox
Brothers Freshman Adam and Junior KC Krien try to steal the ball from Quinter's Freshman Collin Blackwill. The Indians took a while to warm up in their first game, but ended with the victory.
---
Hackler can't play for the Indians due to a broken finger. Hackler said, "it would have been more fun to be out there with my teammates."
Connor Keller, junior, said he is proud of the team for the win against Quinter. "I love playing with and for my team."
Adam Krien, freshman, said a highlight of playing on the varsity team was Senior Tate Busse's dunks. Busse dunked three times in the game. "Being able to play varsity was a blast," Krien said. "We worked as a team well. Also Tate had awesome dunks."
Senior Jake Faulkender said the Indians have some room to improve but was happy with the win. "It was a good start to a great season," Faulkender said. "We really need to work on getting back on defense even when we score. It clearly could have gone better but I thought it was still a good start."
The Indians' next home game is on January 12 against Dighton.