Rhonald Wins Cheyenne Co. Spelling Bee
---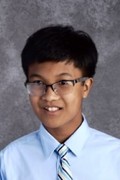 Photo by Lifetouch
Rhonald Neitzel - Cheyenne County Spelling Bee Champion
---
The Cheyenne County Spelling Bee was held in the St. Francis Elementary Gymnasium on Wednesday, January 31. The two Cheyenne County Schools, St. Francis and Cheylin, entered students from grades 4-8. Rhonald Neitzel, St. Francis 6th grader, was the winner of the 2017 Spelling Bee. Brady Ketzner, Cheylin, earned the runner-up award.
Congratulations to the winners and all participants!
Students participating in the Spelling Bee from St. Francis Community Schools are listed below.
4th Grade: Madison Siegfried, Carter Matthies, Avery Jensen, Alternate - Breck Lohr
5th Grade: Maggie Hingst, Shane Todd, Mahra Padgett, Alternate - Matilynn Smull
6th Grade: Rhonald Neitzel, Hayden Lennox, Malachi Jennings, Alternate - Addy Christensen (Hayden did not participate - Addy did)
7th Grade: Molly Gilliland, Rian Zimbal, Jesslynn Houtman, Alternate - Talexa Weeter
8th Grade: McKenna Poling, Hailey Robbins, Kaden Lee, Alternate - Joani Fuller (Kaden did not participate - Joani did)