Track Athletes Perform Well at State Meet
---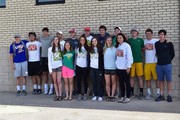 State track athletes pose for a photo before leaving for the State Meet.
---
The St. Francis track and field athletes performed well in the Kansas State Track Meet in Wichita on Friday and Saturday, May 25 and 26. The Indians placed fifth as a team scoring 36 team points. The Lady Indians did not score, but set a new personal record in the 4 X 800 meter relay. Though a bit hot, the weather at the State Meet was nearly perfect, and many new meet records were set during the competition. Student-athletes from the six classifications competed during the two-day event.
---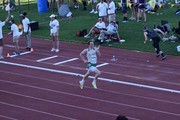 Brady - 4 X 400 Prelims
---
The boys 4 X 400 meter relay team consisting of Jordan Raby, Brady Dinkel, Tate Busse and Wyatt Hackler won the state championship clocking 3:26.59. Jordan Raby placed second in the 400 meter dash with a time of 50.34. (Jordan ran 50.02 in the prelims to set a personal record.) Running a time of 2:00.18, Tate Busse placed second in the 800 meter run. The boys 4 X 100 meter relay team consisting of Adam Krien, Jordan Raby, Dalton Straub, and Wyatt Hackler placed fourth with a time of 44.18. Tiernan Poling tied for fourth in the pole vault clearing 12' 6". Shadryon Blanka earned an 8th place finish in the triple jump soaring to a PR of 41' 5".
---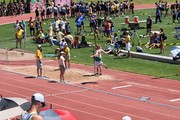 Shadryon - Triple Jump
---
Other St. Francis athletes competing in the meet but not scoring were: For the Indians--Jake Faulkender (12th in the 3200 meters - 10:51.32); Luin Norris (9th in discus - 133' 0"); and Tate Busse (11th in long jump - 19' 3"). The Lady Indians 4 X 800 meter relay team consisting of Hannah Zimbal, Taighe Weeter, Emma Johnson, and Kattie Wurm placed 10th with a PR of 10:35.84.
Bennington won the team title in the boys division scoring 59.5 team points. Stanton County placed second with 53. Smith Center (42) and Yate Center (40) edged the fifth place Indians. Bennington also won the girls division totaling 73 team points. Valley Heights earned second with 48 and Kiowa County third with 39.
For a complete listing of results from the a 2A State Meet, click this link.
Click the photos to see more photos!