Indians chop up Jackrabbits
---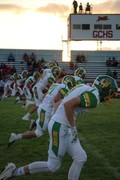 Photo by McKenna Poling
The Indian Football team fought hard against the Tribune Jackrabbits last Friday. The Indians ended up winning 38-0.
---
Last Friday the Indian football team had a well earned win over the Tribune Jackrabbits. The Jackrabbits proved they were not a team to overlook this season. Both teams fought hard, but in the end the Indians won 38-0.
"They had big guys who were skilled, that's why they were strong competitors," said Tiernan Poling, senior.
During the first quarter, it seemed like the game was going to be very close. The Indians were confident but so were the Jackrabbits. Later during the game, the Indians took the lead and the Jackrabbits could not catch up.
"We wore them out, we played really, really aggressive and won," said Jasper Hunt, sophomore.
The Jackrabbits were getting visibly agitated, and one of their player's behavior even resulted in getting kicked out.
It was a good game to watch, and challenged the Indians to work harder to earn that win.
"It was really fun, considering we won," said Cutter Neitzel, freshman.