Indians defeated the Oberlin Red Devils by the third quarter
---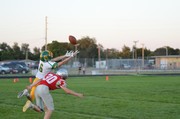 photo by Bryce Raby
Senior Connor Keller reaches out to catch the pass ten yards from the goal line. The Indians defeated the Oberlin Red Devils 50-0 a few minutes into the third quarter. "We just wanted to get the game over quick so we could get back home," said Keller.
---
Just picture it. You are sweaty, the game is tied with two minutes to go and you have the ball at the ten yard line. The adrenaline is going and you are ready to catch the game winning pass.
That wasn't quite the case in Oberlin on Friday, September 21. The Indians beat the Oberlin Red Devils, 50-0, with it ending minutes into the third quarter. The game was exciting with great plays and passes, but not quite nail-biting.
The Indians increased their record to 4-0.
---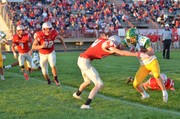 photo by Bryce Raby
Junior Brady Dinkel pushes against the Oberlin defensive line. Usually the Indians play a running game, but this game was different. "We threw more this game because of the way their defense played," said Dinkel. "I like passing but coach doesn't really like throwing the ball. I just do what I'm told."
---
"We played really, really well," said Jasper Hunt, sophomore. "It was nice to be finished shortly after the third quarter. Even though it may not happen again, it was nice to happen this season."
Colton Neitzel, sophomore, said he improved on his blocks in the Oberlin game.
Shadryon Blanka, sophomore, said "head smashing and touchdown passing" got him through the game and helped him keep pushing through.
The Indians play at Greene Field on Friday, September 28 as they take on the 2017 state champion Hoxie Indians at 7 p.m.