Sainty Indians knock Hoxie off their pedestal and take their place as No. 1 in the state
---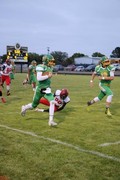 photo by Audrey Meyer
Junior Brady Dinkel runs the ball to the goal line to give Sainty Indians the lead in the game against the No. 1 ranked Hoxie Indians on Friday. Saint Francis defeated the Hoxie Indians 64-30.
---
Friday, September 28, the Indians knocked down the No. 1 ranked in the state the Hoxie Indians, 64-30.
The crowd did their best showing enthusiasm despite the nearly-freezing weather. You could say this was a nerve racking game because Hoxie was ranked number one and Saint Francis was not even ranked. The town was buzzing with anxious feelings over the game.
"I was so excited we won, especially since there were so many people doubting us and saying there was no way we would win," said Senior Tiernan Poling. "That doubt is what fueled us as we hammered down Hoxie." Poling added that he's excited for the future because "anything can happen."
---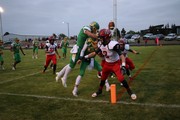 photo by Audrey Meyer
Senior Jordan Raby leaps over Junior Brady Dinkel to secure another touchdown for the Sainty Indians. St. Francis was unranked going into the game, and after defeating Hoxie, took their place as the number 1 on maxpreps.
---
Junior Brady Dinkel agreed about the excitement. "We played together and had a lot of fun playing for something bigger than ourselves," Dinkel said. "We all played relaxed and had confidence and trusted the others on the field to get their job done and in the end it came out how we wanted. It was a great team win and kinda showed us what we are capable of as a team if everyone keeps working their tails off."
After this win, the Saint Francis Indians moved from not being ranked to being ranked number one on maxpreps.com. This game was the first game Hoxie lost since last season, which was also against Saint Francis.
"It felt great winning the game," said Sophomore Adam Krien. "We had nothing to lose and everything to gain from this win."
The next game the Indians will be playing will be against Leoti. Leoti lost to Hoxie in a close game.