Indians take down the Red Devils Once Again
---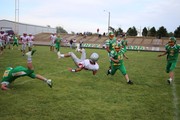 photo by Joslyn Ketzner
Junior Jayce Nider stops the Oberlin ball from progressing. Freshman Caleb Todd assisted. The JV Indians defeated the Oberlin Red Devils Monday night at Greene Field.
---
The St. Francis JV Indians beat the Oberlin Red Devils on Monday, October 1. This was the Indians third game for junior varsity, as they have played Quinter (12-8) and Dundy County (22-38).
The Indians increased their record to 2-1 with a score of 38-22 against the Oberlin Red Devils.
Indians won the toss and chose to receive. As the Red Devils kicked the ball to the end zone, Kobe Tice caught the ball and ran it all the way down for a touchdown with the help of his teammates blocking for him. The 2 pt. conversion was no good.
Kobe Tice, sophomore, said, "I sure wouldn't have made that touchdown without the good blockers on my team."
With 30 seconds left on the clock and the Indians possessing the ball, Freshman Caleb Todd hiked the ball back to Sophomore Josiah Sims as he took a knee to end the game.
The team played an outstanding game and showed much improvement from their game last week against Quinter.
Devin Dinkel, head JV coach, said "It was a good game for us. The team played hard, and we were able to get a lot of playing time in for everybody."
---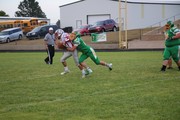 ---
Jordan Raby, a senior varsity player, said, "Our varsity team wouldn't be as good as they are without these boys. They played a great game against the Red Devils. I enjoyed watching and cheering them on. St. Francis has a bright future with these boys."
The Indians take on Wichita County in Leoti on Friday, October 5 at 7:30 PM.