Undefeated Saint Francis Indians Gets Yoke Back
---
photo by EmmaLee Archuleta
The Saint Francis Indians defeated the Atwood Buffaloes on Senior Night and Military Appreciation Night to win the Yoke Bowl and advance undefeated into bracket play, 8-0.
---
Friday the Saint Francis Indians defeated the Atwood Buffaloes at the annual Yoke Bowl. The Yoke Bowl began ten years ago between the rivals of Saint Francis Indians and Atwood Buffaloes. In 2016 Atwood won the yoke and Sainty was devastated. Now in 2018, the Indians won the yoke back under the new Head Coach Nick Fawcett and his team of Assistant Coaches Devin Dinkel and Scott Carmichael. The Indians ended the first quarter at 46-0 and ended the game by 45-ing the Buffaloes at halftime, 58-8.
Before the game, the Indians recognized the senior football players and cheerleaders. Also the Indians honored the veterans and active service members in the military by placing a sticker of their favorite military branch and standing next to the veterans on Greene Field for the national anthem. After the game, military were invited to eat a meal with the players.
---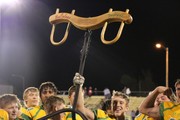 photo by EmmaLee Archuleta
---
"It felt good to keep the tradition going to get the yoke back and get everyone on the team experience what we do in varsity … enjoying what we enjoy," said Senior Connor Keller. "Enjoying what we enjoy."
All in all, it was an emotional time for all the football players. All of the players on the team got to play at least three plays, which made it a really fun game for the whole team.
Junior Jaron Berig said that playing varsity football felt great.
"It felt like I was playing in a big boy game," Berig said.
The Indians play the first game in the playoffs on Thursday, Oct. 25 at 7 p.m. on Greene Field.