Indians Keep Choppin, 11-0
---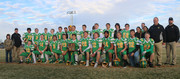 photo by EmmaLee Archuleta
Sectional Champions
---
On Saturday, The Saint Francis Indians defeated the Hodgeman County Longhorns. By the end of the game, the Indians maintained their undefeated record with a score of 30-20. The win sealed the Division I Sectional championship title for the Indians.
"It felt good winning the Division One Sectional Title in football," said Senior Wyatt Hilt. "I was really excited."
Sophomore Jasper Hunt said when Senior Tiernan Poling intercepted the ball in the second half was when he felt the win was secure for the Indians.
---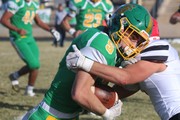 photo by EmmaLee Archuleta
Push through. Senior Jordan Raby tries to push his way through to get a touchdown. Raby ended up going out of bounds.
---
"Tiernan really only plays defense and when he got the interception, the second interception of the year, it was a great thing to see because it was at that point we knew we were wearing them down and playing better than them," Hunt said.
Sophomore Shadryon Blanka said he had a positive outlook of the potential outcome of the game against the Hodgeman County Longhorns.
"I felt confident in my team's abilities," said Blanka.
Hunt said there was a ridiculous play in the fourth quarter that got the teams and fans riled up.
---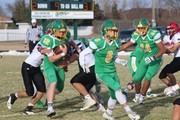 photo by EmmaLee Archuleta
Senior Connor Keller blocks some Hodgeman County lineman so Sophomore Shadryn Blanka could get through. Blanka did make a touchdown making the score 30-14 in the 4th quarter.
---
"The Longhorns did a short onsite kick and our team had it covered but after the whistle blew and before the refs came over, their player pulled the ball out and had it in their hands so the ref called it a turnover," Hunt said.
The Indians will play for Sub-State title against Central Plains Saturday, Nov. 17 at 2:30 p.m. at Claflin.
"We know it will probably be our toughest game yet," said Sophomore Colton Neitzel.