Indians fall short to the Oilers, complete season 11-1
---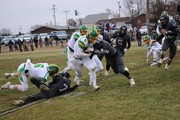 photo by Bryce Raby
Senior Jordan Raby pushes through the Oiler defense.
---
The Saint Francis Indians finished their season with 11 wins and 1 loss when they fell to the Central Plains Oilers in the sub-state championship on Saturday. The game ended with a score of 0-42.
Shadryon Blanka, sophomore, felt optimistic about it. ¨We held them from 45-ing us, but it was a tough game.¨
Colton Neitzel, sophomore, had a little different perspective.
"It was a hard fought loss, but they were the better team that day," Neitzel said.
Brady Dinkel, junior, said he is pleased with the season and excited for next year.
"We ended with a great season with new coaches, new players, and a new offense, and it will be just as good next year," said Dinkel.
---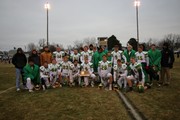 photo by Bryce Raby
The Sub-State game ended with the Indians' first loss of the season.
---
Head Coach Nick Fawcett said he was pleased with the season.
"For starting the season out with only five returning players and a new coach, it really was amazing what all we were able to accomplish together," Fawcett said. "I asked a lot of the boys this season and I believe that is a testament to the mental and physical toughness of our young men who bought into the new culture that my coaching staff and I wanted to implement."
"I'd like to thank all of the seniors for being leaders and helping lay the foundation for the future of what we will accomplish here at St. Francis High. The sky is the limit if we continue to build on what we have started," said Fawcett.
The Indians had an undefeated 2018 regular season, were the District Champions, NWKL Champions, Yoke Bowl Champions, Regional Champions, Sectional Champions, Sub-State Runner-Up, and ranked second in the state after the season ending polls.