FFA Begins Semester With a Busy Schedule
---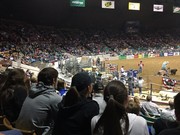 Photo by Janeth Perez-Medina
---
Group Attends Stock Show
The St. Francis FFA chapter held their chapter meeting January 4, 2017. The FFA Reward Trip was discussed at the time. The chapter agreed on attending the National Western Stock Show January 18, 2017. The FFA chapter announced the upcoming Career Development Events (CDE's). The students are preparing for Speech Contest, Livestock Judging, Ag Mechanics, Poultry, Agronomy, Horticulture, and Horse Judging. The community service committee gave a report about the donations that were made in December. The Fruit, Meat, and Cheese top sales were announced with Marlo Jensen, Seth Mills, and Dennis Potter being awarded prizes. The 3rd and 4th year members pursuing a state degree were to talk to Ms.Poet. Senior FFA members were encouraged to complete their National FFA Scholarship before February 1, 2017. Junior Officers will have a lunch meeting to plan FFA Week activities.


---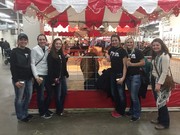 Photo by Janeth Perez-Medina
---
On January 18, 2017 the SFCHS FFA chapter took the FFA reward Trip to the National Western Stock Show on FFA Day in Denver, Colorado. There were thirty- two members along with Advisor Tiffany Poet. For many members, it was their first time attending the National Western Stock Show. "It was a lot of fun, it was scary at first because I didn't know where to go," told us freshmen Perla Yañez.
There were many events going on through the day. In the morning some members attended Reigning Contest while others walked around and shopped. "I had a blast. It was a great experience to have with friends. I loved everything about it, from the food to the rodeo," said freshmen Alondra Gomez.
The chapter attended the Pro Rodeo."I absolutely love Steer Wrestling, because of how intense it is and how into it the cowboys are," said Reagan Beims, junior. The chapter was able to watch member Joel Hill show his steer in showmanship classes before heading home. The chapter hopes to make this a semi-annual event, because it was both fun and educational.
Click the photos to see more photos!