Rian Zimbal Wins Cheyenne Co. Spelling Bee
---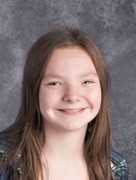 ---
Lee 2nd, Lennox 3rd
The Cheyenne County Spelling Bee was held in Bird City on Wednesday, February 1. Thirty students from the Cheylin and St. Francis schools participated in the competition. After many rounds of intense competition, St. Francis 6th grader Rian Zimbal was declared the winner of the contest. St. Francis 7th grader Kaden Lee placed second in the competition and 8th grader Schuyler Lennox placed third.
The students spelled many difficult words during the Spelling Bee. Here a the words that some of the St. Francis students missed during the competition: neutron, mildew, gnarled, esteem, flexible, perilous, Honolulu, javelin, and clause.
---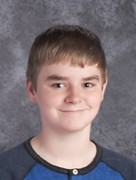 ---
---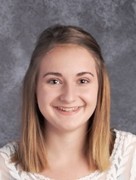 Photo by Lifetouch
Schuyler
---
St. Francis students participating in the competition were:
8th Grade: Jasper Hunt, Schuyler Lennox, and Brady Schoenrogge
7th Grade: Joani Fuller, Kaden Lee, and McKenna Poling
6th Grade: Madison Barnhart, Molly Gilliland, and Rian Zimbal
5th Grade: Maggie Hingst, Ava Jenkins, and Aspen Tiegs
4th Grade: Dodge Fromholtz, Deija Kabureck, and Malachi Jennings
Congratulations to all participants on a job well done!