Poling Competes At State
---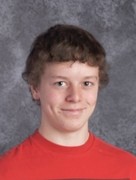 Image by Lifetouch
Tiernan
---
Indian Tiernan Poling competed in the Kansas State High School Wrestling Tournament on Friday and Saturday, February 24 and 25, in Hays. Tiernan qualified for the tournament by placing 3rd at the Regional Tournament held in WaKeeney the previous week.
In the first round, Tiernan lost to junior Zane Stanton of Caney Valley. Tiernan won one match at the State Tournament, a pin (3:46) over senior Diego Doninguez from Beloit in the consolation round. In his last match of the tournament, Tiernan lost by fall (2:13) to junior Bryce Younger of Ellis.
Though Tiernan did not place at state, he wrestled well and completed a fine season of 25 wins and 15 losses. Congratulations, Tiernan!
Click here to view Tiernan's state bracket.
Coach Dylan Loyd shared the following comments.
"The 2016-2017 wrestling season came to an end this past weekend and what it season it has been. This season has been unlike any I've ever experienced. Throughout the year and through all the adversity we had kids rise above it all and truly put forth their best effort. Tiernan Poling had himself one heck of a season and did something that I don't think many people thought he could do-wrestle at the state tournament. As coaches, we have always had a lot of faith and confidence in Tiernan not so much based off of his talent, but how he goes about his business. This kid doesn't say a whole lot but, he leads by his actions. The improvements that he has made throughout his first two high school seasons is a testament to him and the work that he has put in. Wrestling is a difficult sport and the results don't come quick enough for most people; instead of sticking it out and continuing to work hard and trust the process often times people tend to quit. This kid didn't have an ideal season last year; he took his lumps and really didn't start figuring things out until the last 3 weeks of that season. I think those last few weeks opened his eyes and his mind into how good he can be. Right after the season he put the time in and got right back onto to wrestling mat. Last offseason he had almost 30 matches which is the equivalent of one high school season. That is why Tiernan is in the position he is in now. He didn't sit back and wait for the results to come; he got right back to work and we all are very proud of him. I know as a competitor losing is not fun. We all hate to lose but, at the state tournament everyone is good especially when you have all the 3A, 2A, and 1A schools combined to form one state tournament. There is incredible depth at this state tournament and you cannot take anyone lightly. Both kids that Tiernan lost to are both now 3X state placers. That doesn't make defeat any easier, but when you are losing to quality kids you can never hang your head on that. Tiernan took us all for one heck of a ride this season. The season started a little rocky for him but come the last 6 weeks we saw this kid blossom before our very eyes. I am very excited to see what is to come for this kid, and hope to see him continue to put forth the time and work that he has up to this point. We are very proud of him and the experience that comes from competing at the state tournament is second to none."