Students Enjoy Prom
The St. Francis Prom was held on Saturday evening, April 22. The theme was "Night of a Thousand Lights." The evening began with the Promenade in the St. Francis High School Gymnasium. Students were introduced by emcees Karly Bandel and Cassidy Busse to the large crowd in attendance. The students looked very attractive in their prom attire. After the Promenade, the Prom attendees enjoyed a nice meal of pork tenderloin, mashed potatoes, steamed baby carrots, and a brownie sundae for dessert.
---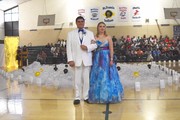 Chad Sherman and Kristina Kier
---
Later, the students danced to the music of DJ X-Press from McCook, Nebraska. After the dance, students enjoyed an After-Prom Party at Cheyenne Bowl.
Click on the photos to see more photos from the 2017 Promenade and Prom.