Junior High Lady Indians stung the Hornets with a clean sweep
---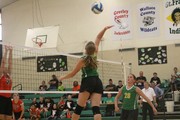 Photo by Karly Bandel
Saint Francis Eighth Grader Mia Morrow jumps high to hit the ball at the opposing team. Saint Francis Seventh Grader Talexa Weeter set Morrow up for a strong hit.
---
On Thursday, September 14th, the Junior High Lady Indians came out victorious against the Dighton Hornets. Each A, B, and C-Team kept their games within two sets making it a clean sweep.
The Junior High B-Team pulled out an exciting win keeping each set very close ending in a score of 25-23, 25-21. While starting out slow, the B-Team made a stride in serving and fought hard to come back and win. Their energy made them fun to watch. "I always try to stay loud and make sure that nobody gets down on themselves," said Saint Francis Seventh Grader Rian Zimbal.
The A-Team battled hard to win close games with the Dighton Hornets. They made their big roll towards the end of the game to make it an exciting game. "We came together and talked loud," said Saint Francis Eighth Grader Hadleigh Hilt. "We had fun while doing it, and we knew we wanted to come out with a win."
---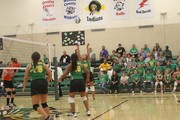 Photo by Karly Bandel
Janie Ramirez, Saint Francis seventh grader, sets up her teammates so they can get a kill. The B-Team won the game in two sets against Dighton.
---
With great passes, good sets, along with some sneaky tips and killer hits, the A-Team showed they are a force to be reckoned with this year. The final score to their game was 25-15, 25-19.
The C-Team also came out on the winning side defeating the Lady Hornets in two close sets, 25-22, 25-21. While not having much experience, the girls stepped out on the court with confidence and played very well together.
The Junior High Lady Indians will compete next in Atwood on September 21 at 4:30 p.m.