Sainty Lady Indians take gold at NWKL B-Team Tournament
---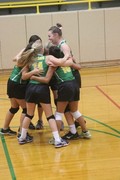 Photo by Bryce Raby
The Sainty B-Team Lady Indians celebrate after a hard fought win against the Dighton Hornets at the NWKL tournament on Tuesday.
---
For the first time since 2009, the Saint Francis Community Junior High volleyball B-team took home gold from the NWKL tournament. They competed in five matches, one of which was the championship game against Dighton; but this wasn't their first encounter with the Dighton Hornets.
Before their last round in the final match they had to get through several other teams. In Pool Two, the Sainty B-team girls competed with Quinter, whom they beat in two sets; 25-18 and 25-16. In their game against Oberlin, they beat them 25-12 and 25-17. As a final match, St. Francis B-team girls beat Dighton in a three-set match. They fought hard in the first set, but lost 19-25, but came back in the second set beating Dighton 25-15. Which led into the third set where our girls beat Dighton 15-5. This wasn't the last the two teams saw of each other.
In the semifinals, St. Francis beat Sharon Springs 22-25, 25-18, and 15-8. This game sent Sainty straight for the championship game against an old friend from Pool Two--Dighton. The St. Francis JH VB B-team went at it again with Dighton to win the title, fighting hard in the first round, but losing by a few points 21-25. The Sainty girls persisted and won the next round 25-20. In the third round, the pressure was on, but the girls were confident.
"I had a strong feeling we would win," said Madison Barnhart, seventh grader on the B-team.
Barnhart wasn't alone in her confidence. Rian Zimbal also said she felt confident they were going to win.
They won in the third set 15-12.
"It was awesome," said Janie Ramirez, seventh grader. She said she was grateful for the support in the stands.
A-Team player Ellee Krien said she was excited for the B-Team. The A-Team was playing in their own NWKL tournament at Dighton simultaneously to the B-Team tournament hosted by Saint Francis Community Schools. "They work hard in practice and communicate with one another really well," Krien said.
Since Saint Francis hosted the tournament, school was cancelled for the junior high and high school on Tuesday, Oct. 17. High school volleyball players volunteered all day to help with logistics like being a line judge. Junior Jessica Confer said she line judged for 11 hours at the tournament. "It was a long day but fun to watch them play," Confer said.