Beyond the Crown: Madison Tice
---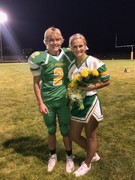 Kobe and Madison Tice pose for a Homecoming photo.
---
"Smart," "Bold," "Driven," "Great Attitude," "Pushes to be her best," these are a few words used to describe Saint Francis Homecoming Queen Madison (Madi) Tice.
She said she wants to make her last year of high school as enjoyable and successful as she can. Tice's senior goals were to make it to state in volleyball and track. Tice's favorite memory of her senior year so far has been homecoming week, "I've always loved homecoming week, I enjoyed all the memories I made with my friends," she said.
After Tice graduates high school, she plans to attend Fort Hays State University to get her pre-requisites out of the way and major in pre-pharmacy for two years. After Fort Hays, she plans to continue her education at the University of Kansas to major in pharmacy. After graduating college, Tice plans to move back to Saint Francis and work at a pharmacy and learn how to open her own.
Despite only stretching to a height of 5'5", Tice loves playing volleyball and hasn't let her height stop her from being the best player she could be for the team. Tice said being a part of the volleyball team has shaped her into a better person and who she is today.
Sarah Raile, Tices' volleyball coach, said "Madi is a wonderful asset to the team. She is a leader and works hard. You want that kind of an athlete on your team — one that isn't afraid to step in and show the girls that she can take on anything. She is a huge role model. She is a wonderful girl on and off the court. She listens to tasks and responds well. She helps others when needed and she is respectful. The thing I like most about Madi is that she is a hardworking, respectful athlete that is very humble. She doesn't think she is better than anyone else, and she shows respect on and off the court. Madi is one of those girls you can look to for an answer. I am so glad I got the privilege to coach Madi the last three years because she is a hard working girl and isn't scared to stand up for herself. That is hard to find in society today and for that I have a lot of respect for her. She stands up for what she feels is right. Sweet girl."
Tice also loves spending time with her family. She and her family go on two trips a year together. According to Tice, "This is what I enjoy most, the time spent with her family, it brings us closer as a family."
Tice said Senior Dalton Straub is her best friend. He said, "Madi is always fun to be around and always a big help when needed. She also makes everyone in the room smile and laugh. Madi is a great friend and someone you can always count on."