Going places, helping along the way: Senior Mallery Mills
---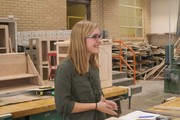 Photo by Teagan Landenberger
---
Mallery Mills, SFCHS upcoming graduate of 2018, takes EMT classes in Colby in her spare time in the middle of her senior year to become a certified. She has taken many tests and spent many hours on this task. Despite her unique angles, Mills embodies your typical teenage girl. She competes in sports and manages the football team. On top of that, she said, "I love being with my niece." When she isn't with her niece, she's with her pet cat, Oliver, reading memes on pinterest, or hanging with some of her close friends.
Junior Jessica Confer described Mills as a social butterfly. This is perhaps the best way to describe our loveable "Mal-pal," as she is called from time to time. The name fits. Mills cares about the well-being of others.
Mills gravitates towards helping people. She aims to attend college and take classes associated with criminal justice. Her love for helping people doesn't stop there. She also plans to become a paramedic someday.
Her classmate, Senior Chad Sherman, said, "I think Mal will go far in life. She is a loving caring person, but she can be a brat sometimes," later adding, "a brat in a good way though."
Mills has a bright future ahead of her. She has a positive outlook and a heart of gold leading her into the world. Mal knows what she wants to do. "She may be tiny, but she is mighty in her will," said Sherman, "she is going places."