Wrestlers Started their Season Off Great at Saint Francis Gabel/Jenkins Invitational
---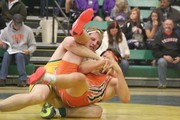 Photo by Chad Sherman
Senior Luin Norris wrestles opponent at the Gabel/Jenkins Invitational Saturday at Saint Francis. Norris placed fourth at the wrestling tournament in his weight category.
---
The Saint Francis wrestlers started their season off on Saturday in a tough Saint Francis Gabel/Jenkins Invitational Wrestling Tournament. The Indians placed 10th as a team and scored a total of 39 points. The Indians had three individual placers and five total won a match throughout the day on Saturday. Freshman Garin Cooper placed 4th at 126, Junior Tiernan Poling won one match by fall at 132, Junior Cody Baxter won the 3rd place medal at 160, Freshman Shadryon Blanka had one win by a 12-0 decision at 170, and Senior Luin Norris won 4th place at 195.
"Individually I feel like I did really good for the first tournament," said Norris. "I think it was a great way to start with some wins and a confidence booster. I feel our team has improved a lot since last season. We have a lot of potential and we didn't lose anyone from last year we only gained some freshman who have stepped up at practice and are working for the same goal we all have."
Senior Trayton Doyle was not able to compete in the tournament due to a shoulder injury from the previous wrestling season, but he hopes to be back within the next few tournaments and wrestle in the 220 weight class.
The Saint Francis community showed lots of support on Saturday and Senior Reagan Beims, wrestling cheer captain, said, "It was fun to watch our boys compete against some good competition. It's always fun to cheer them on and be there when they are competing so well."
At the end of the day the wrestlers have a lot more tournaments to compete at and Baxter said, "At first it feels overwhelming, but when it came time to perform you feel on top of the world."
The Saint Francis wrestlers have another tournament this weekend on Saturday December 9, in Limon, Colorado at the Badger Invitational.