St. Francis Agriculture Teacher Selected for Professional Development Scholarship
---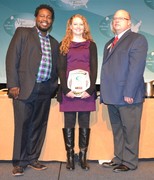 Samuel Parker, RAM Trucks representative and Scott Stone, NAAE President present the award to Tiffany Poet.
---
NASHVILLE, Tenn. – Tiffany Poet, agricultural educator at St. Francis Community High School in St. Francis, Kansas, is one of a select group of agriculture teachers nationwide who received the 2017 Teachers Turn the Key professional development scholarship from the National Association of Agricultural Educators. As a scholarship recipient, Poet attended the NAAE annual convention in Nashville, December 5-9.

The Teachers Turn the Key scholarship brings together agricultural educators with four or fewer years of experience and immerses them in three days of professional development that addresses issues specific to the early years of teaching agriculture. Participants also have the opportunity to become involved in NAAE leadership and network with other NAAE convention attendees. TTTK awardees come away from the experience with a long-lasting peer cohort and tools that will help them have successful careers as agricultural educators.

Being an agriculture teacher means Poet continually works stay on top of current agriculture trends and keep her teaching skills sharp. One way she does this is by attending trainings and conferences. Over the past two summers, she has completed two months of training to receive certification in a variety of courses within the Curriculum for Agricultural Science Education. CASE empowers educators through intense professional development, and allows them to implement an inquiry-based curriculum where students incorporate core academic skills taught in context with Agriculture Food and Natural Resources.

Through Poet's guidance, monthly FFA chapter meetings have caught the attention of not only student members, but the entire student body at St. Francis. FFA membership has grown from 25 to 58 members, with 81 percent of those FFA members participating in events at the district level.

The hands-on aspect of agricultural education often means the program can be more expensive to fund. Poet has applied for grants to purchase small engines that student use in classwork. Students also participate in fundraising opportunities like selling fruit. The funds they raise are used for trips, service projects, and scholarships for senior FFA members.

"In four years, I have seen the light come on the eyes of students when they connect the dots taking information from books to practical application. Every student deserves to learn and my job is to inspire them to want to learn. I control what I can…and adapt with the things I can't control," said Poet.

In addition to attending professional development, each of the TTTK scholarship recipients was also recognized at a general session during the NAAE convention. RAM Trucks sponsors the TTTK program as a special project of the National FFA Foundation.

NAAE is the professional organization in the United States for agricultural educators. It provides its' more than 8,000 members with professional networking and development opportunities, professional liability coverage, and extensive awards and recognition programs. The mission of NAAE is "professionals providing agricultural education for the global community through visionary leadership, advocacy and service." The NAAE headquarters are in Lexington, Kentucky.