Local Tracksters Sign to Run Collegiately
---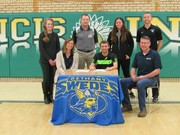 Jake's signing photo
---
The second semester marks the season of final college decisions for high school students and those continuing their athletic careers make their decides early. The story is no different for two St. Francis High School student athletes that have committed to competing on the collegiate level for 2018-19. On January 11th, Wyatt Hackler, a transfer student from Texas, met with Ottawa University Coach Whitaker, to sign his letter of intent. Hackler was a member of the state winning 4 X100 and 4 X 400 relays last May, as well as placing 7th individually at the state meet in the 100 meter with a 11.26 second sprint. With the combined efforts of his relay teammates, Taylor Rogers, Tate Busse and Jordan Raby, both teams ran impressive times all season and set new school records at the Lakin Track Meet. Hackler plans to pursue a Sports Medicine degree while competing on both the indoor and outdoor track teams at Ottawa.
Jake Faulkender is no stranger to track or distance competition and decided to continue his running career with Coach Yoder in Lindsborg, KS at Bethany College. Faulkender signed his letter of intent on February 9th to compete in cross country, indoor and outdoor track. Faulkender was the 3200 meter league champion in 2016 and 2017, as well as the regional champion at the 5k during cross country during the 2017 season. Faulkender competed as an individual during cross country in 2016 and 2017 and placed at state both years. Faulkender will be pursuing a degree in Computer Graphics in addition to his running.
---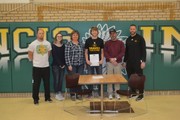 Wyatt's signing photo
---
By signing letters of intent these two have committed to these schools and are not allowed to change schools within the conference without penalty. Both Ottawa and Bethany are liberal-arts schools in the NAIA Division, and these two student athletes will cross paths multiple times during the year. The track and cross country coaching staff are very proud of these young men and wish them the best of luck with their future careers. Hackler and Faulkender both have big goals and plans for their senior track seasons at SFCHS and look to finish their high school careers with many more accolades.