Trayton Qualifies For State Tournament
---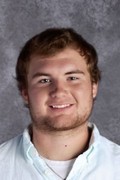 ---
State Tournament Info Listed
The Regional Wrestling Tournament was held on Friday and Saturday, February 16 and 17th, in Goodland, Kansas. Twenty-five schools competed in the tournament including the following schools: Atwood-Rawlins County, Brewster, Cimarron, Colby, Ellis, Goodland, Hays-TMP, Hill City, Hoxie, Lakin, Leoti-Wichita County, Logan, Montezuma-South Gray, Norton Community, Oakley, Oberlin-Decatur Community, Palco, Phillipsburg, Plainville, Scott City, St. Francis, Stockton, Sublette, Tribune-Greeley County, and WaKeeney-Trego Community.
Only one St. Francis wrestler placed in the top four positions to qualify for the Kansas State Wrestling Tournament. Trayton Doyle, 220 pound senior, won 3rd place at the Regional Tournament and will be competing in the 3,2,1A State Wrestling Tournament in Hays, on February 23 and 24. Click here to view Trayton's state bracket. As a team, St. Francis placed 15th scoring 45 points.
Scott Community won the team championship scoring 145 team points. Norton Community placed second with 128 points. The remaining teams placed in the following order: 3rd - Colby 123, 4th - Hoxie 111, 5th - Goodland 96, 6th - Cimarron 92.5, 7th - Oakley 76, 8th - Lakin 66.5, 9th - Phillipsburg 65.5, 10th - Plainville 65, 11th - Oberlin-Decatur Community 63.5, 12th - Atwood-Rawlins County 61.5, 13th - Hill City 55, 14th - Ellis 48, 15th - St. Francis 45, 16th - Leoti-Wichita County 44, 17th - Wakeeney-Trego Community 41, 18th - Hays-TMP 23, 19th - Sublette 21, 20th - Brewster 18, 21st -Stockton 14, 22nd - Logan 9.5, 23rd - Tribune-Greeley County 7, and 24th - Montezuma-South Gray 0.
Individual Regional results for St. Francis wrestlers are listed below.
Garin Cooper: won by fall over Hanson, Atwood-Rawlins County; lost by 3-0 decision to Lynn, Cimarron; won by fall over Hamel, Hill City; lost by a 1-0 ultimate tiebreaker to Lovewell, Hays-TMP. Click here to view Garin's bracket.
Aaron White: lost by fall to Stephenson, Oakley; lost by fall to Goss, Norton. Click here to view Aaron's bracket.
Tiernan Poling: won by fall over Juenemann, Oberlin-Decatur Community; lost by a 8-1 decision to Lenker, Phillipsburg; lost by a 7-3 decision to Baalman, Hoxie. Click here to view Tiernan's bracket.
Tyson Poling: lost by fall to Mason, Oberlin-Decatur Community; lost by fall to Russell, Phillipsburg. Click here to view Tyson's bracket.
Shadyron Blanka: won by fall over Garetson, Sublette; lost by fall to Hanson, Plainville; won by fall over Farr, Oberlin-Decatur Community; lost by fall to Wiltfong, Norton. Click here to view Shadryon's bracket.
Luin Norris: won by fall over Holub, Goodland; lost by fall to Seabolt, Cimarron; won by fall over Hernandez, Leoti-Wichita County; lost by fall to Junkermeier, Plainville. Click here to view Luin's bracket.
Trayton Doyle (Placed 3rd): won by fall over Colgan, Atwood-Rawlins County; won by fall over Dilka, Oakley; lost by a 3-2 decision to Ledesma, Goodland; won by fall over Bogner, Cimarron; won by a 7-2 decision over Dunn, Wakeeney-Trego Community. Click here to view Trayton's bracket.
Coach Dylan Loyd shared the following comments, "This past weekend we traveled to Goodland to compete in the 3-2-1A regional tournament. Much like past years, the depth and competition at this regional was top notch. It has become a pretty common theme every year for us to be a part of arguably the toughest regional tournament in 3-2-1A. This year proved to be much of the same and I was pleased with how these guys battled. We had some matches that slipped through our fingers a little bit, but we battled. At the end of the weekend you look back on your performances and wish to get some of those matches back, but you can't. They may have come up short on what they wanted to accomplish but, any time you fall short you have to learn and grow from it. The best competitors don't let the tough losses get to them. They use them as motivation and though dealing with that heartbreak is hard; it's vital to remember that feeling as you train throughout the offseason. I have a lot of faith in these guys and it's important to point out the amount of growth they all have shown throughout this season.
Individually, Garin Cooper was a pure joy to watch grow and develop this past season. If you were to ask him at the beginning of the season if he saw himself having the success he did this year I bet he would say no. He truly came a long way and it all comes down to the manner in which he carries himself and the work he puts in. This is a kid who didn't start wrestling until he was in 7th grade, so the growth he has shown and the improvements he has made is a testament to him. He took two really tough losses this weekend to two tough seniors and he battled both of them hard. At the end of the day there is a lot to feel good about with Garin. He is all in and I looked forward to having him around for the next three years. Aaron White had a tough weekend wrestling up a weight class. This is a young man who doesn't have a whole lot of experience, but what he lacks in that he makes up for with his preparation and work ethic. He came a long way this season and really took a step forward this weekend. He took his losses pretty hard this weekend and as a coach I love to see that. I love to see that because you could see it in his eyes how important this was to him. Moving forward I have a lot of faith in this young man. You know every day he's going to give you his best. Tiernan Poling really had an up and down weekend. Friday he wrestled lights out and completely dominated a kid he beat in overtime a year ago. In his semi's match he wrestled a tough opponent but, he battled him tough. On Saturday, Tiernan was just off and it's hard to put a finger on it but, I am very proud of him. I know how hard it is to fall short of a goal you set for yourself. I think it's important to every one of these guys to remember that one loss doesn't define a season. It's very important for Tiernan to remember that. The Tiernan Poling today is twice the wrestler Tiernan Poling was a year ago, it will be an important offseason for him but I trust he will do what he needs to. Tyson Poling had a tough year competing in a very tough and deep weight class. Every weekend Tyson was asked to compete against top notch wrestlers and that is never easy. What makes it harder is when you take tough loss after tough loss. Losing is never fun especially when you work as hard as we ask this group to work. Tyson's spirit never wavered throughout the season. He kept after it and he kept working. I wish he could have some matches back but, he has a lot of talent. Where he goes from here will be telling-I know the talent he has and if he invests this offseason next year could be a lot of fun for him. Shadyron Blanka really finished this season strong and started to really come into his own. He started to really gain confidence in himself and feel just short of making it to the bloodround. His last match he was in control of and just made a young mistake and took the pressure off the kid for 5 seconds and it changed the whole outcome of the match. The best way to learn from those kind of mistakes is to make them. Shadyron is a very talented, young wrestler who I know will do what it takes to be the very best. I am really excited about this freshman class moving forward. Luin Norris was good enough to qualify this weekend. He wasn't lacking when it came to talent. He just made some mental errors that I know he'd love to have back. This guy has come a long way from the time he walked into our wrestling room his freshman year. He had by far his best season this year and as a senior that is what you want. His weight class this weekend was very deep with 8 very solid wrestlers. I always judge a senior by how they leave the program behind and the impact that they had on it. This program is better having had Luin Norris these past four years. He is proof that if you stick with something, you work hard, and stay positive that good things can happen. Trayton Doyle really wrestled well this weekend in a very tough weight class. It was good to see him punch his ticket to state. This has been a very tough year for Trayton. He is one of the fiercest competitors that I have ever been around and wrestling is very important to him. To have to watch last season hurt him and fueled a fire within him. He still has goals that he wants to achieve and I look forward to sitting in his corner this weekend. He has got the skillset to do what it takes, the biggest thing for Trayton now is to relax and go out and wrestle. He punched his ticket, the pressure is off now, just go out and perform and utilize his God-given gifts.
This upcoming weekend Trayton will be representing this storied program at the 3-2-1A state wrestling tournament in Hays. I'm looking forward to watching him compete this weekend and continue to take steps forward. Half of the battle is getting there, he's punched his ticket and now it's time for him to continue to take steps forward. He will be ready to go and its going to be a lot of fun!
2018 STATE WRESTLING TOURNAMENT SCHEDULE
FRIDAY, FEBRUARY 23, 2018
Ticket Sales and Gates Open – 8 a.m.
9:30 a.m. - Line up for the Opening Ceremonies
9:45 a.m. -Opening Ceremonies - Parade of Athletes
10:00 a.m. - 1st Round (4 mats)
Break – 30 minutes for lunch
2nd Round - Championship Quarterfinals (4 mats)
3rd Round - 1st round of Consolation Matches (4 mats)
Break – 10 minutes
4th Round - Championship Semifinals (2 mats)
SATURDAY, FEBRUARY 24, 2018
Ticket Sales and Gates Open – 7 a.m.
9:00 a.m. - 5th Round Consolation Wrestle backs (4 mats)
6th Round - Consolation Quarterfinals (4 mats)
Break – 30 minutes for lunch
7th Round - Consolation Semifinals (4 mats)
Break – 15 minutes
8th Round - 3rd place matches (inside 2 mats)
5th place matches (outside 2 mats)
Break – 45 minutes
Parade of Champions
CHAMPIONSHIP FINALS (1 mat)