Trayton Places 3rd at State
---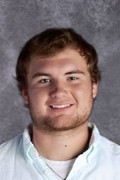 ---
At the 3,2,1A State Wrestling Tournament in Hays on Friday and Saturday, February 23 and 24, Trayton Doyle won four matches and lost one to place third in the 220 pound division. This was Trayton's second state medal; Trayton placed 4th at 220 in 2016. Trayton did not compete in 2017 due to injury. Trayton completed the 2018 season with a record of 26 wins and 3 losses. Trayton was the only St. Francis wrestler to qualify for the tournament. Trayton scored 19 team points to earn St. Francis 31st in the team standings.
Trayton's match results are listed below. Click here to view Trayton's bracket.
Champ. Round 1 - Trayton Doyle won by major decision over Joseph Stout (Cottonwood Falls-Chase County) 35-8 (MD 9-1)
Quarterfinal - Trayton Doyle won by fall over Collin Rossillon (Perry-Lecompton) 21-17 (Fall 3:13)
Semifinal - Chris Cox (Hoxie) 31-5 won by decision over Trayton Doyle (Dec 3-1)
Cons. Semi - Trayton Doyle won by fall over Adrian Gerber (Anthony-Harper/Chaparral) 30-9 (Fall 2:39)
3rd Place Match - Trayton Doyle won by decision over Charlie Nordquist (Marion) 33-5 (Dec 1-0)
Scott Community High School won the 2018 state team championship scoring 98.5 team points. Hoisington placed second with 92.5 and Hoxie third with 88.5. Other competing teams placed in the following order: 4th - Smith Center 76.5, 5th - Silver Lake 64, 6th - Norton Community 63, 7th - Colby 58.5, 8th - Eurreka 55.5, 9th - Phillipsburg 54, 10th - Goodland 53, 11th - Wabaunsee 51, 12th - Marion 49, 13th (tie) - Riley County 48, 13th (tie) - Rossville 48, 15th - Cimarron 45, 16th - Minneapolis 44, 17th - Wathena-Riverside 42, 18th - Plainville 40.5, 19th - Wellville 39, 20th - Hill City 35.5, 21st - Anthony-Haper/Chaparral 35, 22nd - Lakin 34, 23rd - Sabetha 31, 24th (tie) - Beloit 30, 24th (tie) - Fredonia 30, 26th - St. Marys 27.5, 27th - Oberlin-Decatur Community 25.5, 28th - Osborne 25, 29th - Caney Valley 23, 30th - Brookville-Ell Saline 22, 31st - St. Francis 19, 32nd - Belleville-Republic County 18.5, 33rd (tie) - Douglass 16, 33rd (tie) Gypsum-SE of Saline 16, 33rd (tie) - Highland-Doniphan West 16, 33rd (tie) Russell 16, 37th (tie) - Atwood-Rawlins County 15, 37th (tie) Oskaloosa 15, 39th - Mankato-Rock Hills 12, 40th (tie) - Ellsworth 11, 40th (tie) Lyons 11, 42nd (tie) Easton-Pleasant Ridge 10, 42nd (tie) - Eskridge-Misson Valley 10, 44th - Cottonwood Falls-Chase County 9, 45th - Perry-Lecompton 8, 46th - (tie) Humbolt 7, 46th (tie) - Leon-Bluestem 7, 48th (tie) - Wakeeney-Trego Community 6, 48th (tie) - Whitewater-Remington 6, 50th - Oakley 5.5, 51st (tie) Bennington 5, 51st (tie) - Ellis 5, 51st (tie) - Mound City-Jayhawk Linn 5, 54th (tie) Cherryvale 4, 54th (tie) Hoyt-Royal Valley 4, 54th (tie) Leoti-Wichita County 4, 54th (tie) Osage City 4, 54th (tie) Salina-St. John's Military 4, 54th (tie) Uniontown 4, 60th - White City 3, 61st (tie) Richmond-Central Heights 2, 61st (tie) Sterling 2, 63rd - Effingham-ACCHS 1, 64th (tie) Brewster 0, 64th (tie) - Burlingame 0, 64th (tie) - Council Grove 0, 64th (tie) - Garden Plain 0, 64th (tie) - Hesston 0, 64th (tie) - Hillsboro 0, 64th (tie) - Howard-West Elk 0, 64th (tie) Norwich 0, 64th (tie) Rosalia-Flinthills 0, 64th (tie) - Sylvan Grove 0.
Congratulations, Trayton!
Coach Dylan Loyd shared the following comments, "The 2017-2018 wrestling season came to an end this past weekend and what it season it has been. Trayton Doyle wrapped up his high school wrestling career with a 3rd place finish this past weekend. This is a young man who has meant an awful lot to this program. Throughout his four-year high school wrestling career he has had to overcome a lot of obstacles. Whether it be sickness, injury, etc. he never made excuses, he never took his eyes off the prize, and as his coaches we are very proud of him and the imprint he has had on this program. I know he had set a goal to becoming a state champion when he first got into the sport many years ago, but he has nothing to hang his head about. He gave it a go and fell just short to the eventual champion Friday night in the semi-finals. Every wrestler that gets involved in this sport and that truly loves it sets the goal of being a state champion. Thing is there can only be 14 state champions a year and only one in your weight class; it's hard to do. After his semi-final match you could see the disappointment in Trayton's eyes. Come Saturday morning Trayton had a very important decision that he had to make; he very easily could have just thrown in the towel and let that feeling of disappointment overtake him, or he could come back with a vengeance and end his career on a high note. A coach once told me years ago that it's harder to come back and take 3rd than it is win, and I believe that. It takes a special human being to bounce back in a short amount of time and show everyone the type of person they are. The goal was to be a state champion, but he bounced back and got the next best thing.
During the four years that he represented St. Francis, Trayton has truly transformed our program. Sure he won a lot of matches, but what's more valuable is the impact he has had on the culture of our program. He's a fierce competitor – he outworks everyone – he's coachable -he loves wrestling and he's an all around stand -up kid.

You can't replace a Trayton Doyle. His high school wrestling career may be over, but his legacy assures that we maintain what he established. We will continue to produce young men of high character, who value the tradition, and culture that was laid before them. He's inspired a number of teammates to follow his example, and that will help us get to where we want this program to be. Congrats buddy - You leave this program in far better shape than you found it!"