Saint Francis Indians Dominate Hornets
---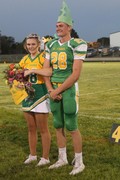 photo by EmmaLee Archuleta
Seniors Jessica Confer and Richard Johnson III were crowned Homecoming Queen and King.
---
The Dighton Hornets' nine players came to play at Friday's game against the Indians' 24 players. The Hornets lost their sting in the second half and the Indians chopped up a homecoming victory, 54-20.
In the first few quarters the Indians made two touchdowns and one two-point conversion, which just kept them even or just ahead of the Hornets.
"It was a slow start because we underestimated them by the size of their team," said Senior Cody Baxter.
Sophomore Adam Krien said the Hornets were the first team that scored on the Indians.
"It was a really fun game because they were the best team we've played against so far this season," Krien said. "There's still work to be done before we play harder teams. We had a hard time covering their passing game at the beginning, but towards the end we wore them out and won the game."
At halftime, the drill team performed their dance to the Saint Francis Indian Band's version of Portugal The Man's "Feel It Still."
After the drill team's performance, the homecoming candidates made their way to the field to be crowned. Seniors Richard Johnson III and Jessica Confer became royalty as the 2018 Homecoming king and queen.
"I was surprised and it was pretty cool to be honored that way," said Confer. "It means a lot to be voted for by my peers."

After halftime, the Indians came back out on the field and kept extending the lead as the Hornets ran out of steam. One Dighton player got hurt in the second half, which left the Hornets with only eight players able to finish the game.
Caleb Todd, freshman, said he got a good view of the game from the side lines.
"In the beginning it was kind of bad because we weren't playing very good," Todd said. "But we started to improve and improved throughout the game, which is why we won."
Click the photo to see more photos!