"Indians For the Cupboard"
---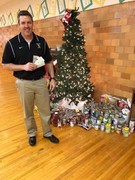 Principal David Morrow with the donations just before delivery to the food pantry.
---
At the last NWKL meeting, the Administrators and Athletic Directors in attendance were challenged to have a competition among the schools in the league to benefit their local food pantry. Beginning December 3, the St. Francis schools began collecting items to donate to the food pantry. On Friday evening, December 14, those who brought two canned food donations received $1 off their admission to the game. Others made a financial contribution. The competition ended on Monday, December 17. On Tuesday, December 18, SFCHS students will take the items to the local food pantry.
The competition was scored as follows - 5 points: canned meats, regular sized cereal boxes, Velveeta cheese blocks, jams, jellies, peanut butter, canned meals (ravioli/chili), toilet paper. 3 points: canned vegetables and canned fruits, canned soups, hamburger/chicken/tuna helper, pasta, hygiene items (soap, toothpaste, q-tips, shampoo, etc), dried fruit, parmesan cheese. 1 point: ramen noodles, fruit cups, jello cups, pudding cups.
The photos on the left are of the food items and cash donations just before delivery to the food pantry.
The photo on the right is a compilation of photos from around the NWKL.
A big THANK YOU goes out to all who supported the food drive!
Below are the results of the food drive point totals for the NWKL schools:
Decatur - 6,800
Rawlins- 6,002
Hoxie- 5,525
Quinter- 4,516
Wallace- 4,207
Saint Francis- 2,663
Tribune- 162
Dighton- NA