Rhonald Wins Spelling Bee--Again!
---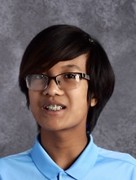 Photo by Lifetouch
Rhonald
---
The Cheyenne County Spelling Bee was held in the Bird City School Gymnasium on Wednesday, January 30, 2019. The two Cheyenne County Schools, St. Francis and Cheylin, entered students from grades 4-8. Rhonald Neitzel, St. Francis 7th grader, was the winner of the 2018 Spelling Bee. Rhonald also won the Spelling Bee last year as a 6th grader.
Rhonald correctly spelled the work "cafeteria" to win the spelling contest. He will be moving on the the Regional competition at Hays on Feb. 25. The Sunflower State Spelling Bee will be held on March 9 at Newman University in Wichita.
A Cheylin student earned the runner-up award. Deija Kabureck was the third-place finisher.
Congratulations to the winners and all participants!
---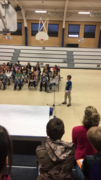 Photo by Rogie Wiswell
Hunter Wiswell, fourth grader, got out in the first round for misspelling the word "truant."
---
Students participating in the Spelling Bee from St. Francis Community Schools are listed below.
4th Grade: Dailey, Rose, Gus Gardner, and Humter Wiswell; Alternate: Myles Pfeifer
5th Grade: Breck Lohr, Jaxon Nelson, Marcy Moberly; Alternate: Ethan Graham
6th grade: Kiernan Nider, Maggie Hingst, Matilynn Smull; Alternate: Shane Todd (did not go)
7th grade: Deija Kabureck, Addy Christensen, Rhonald Neitzel; Alternate: Makaila Mathhies
8th grade: Rian Zimbal, Molly Gilliland, Ben Busse (did not go due to sickness); Alternate: Jesslynn Houtman (participated)
---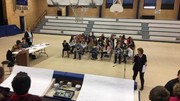 ---