Prom Enjoyed
The 2019 Prom was held on Saturday, March 23. The evening began with photo sessions, and then the Promenade began at 7:00 p.m. The students looked amazing, and the community enjoyed viewing the students in their Prom attire. After the Promenade, the students entered the cafeteria for the Prom dinner and then enjoyed dancing to music by DJ Express (Jesse Stephens) from McCook, Nebraska.
The Prom theme was "Waltzing in a Winter Wonderland." Cassidy Busse delivered the welcome. The emcees for the Promenade were Hadleigh Hilt and McKenna Poling. Lyden Lampe, Danny Broughman, Bailey Workman, Jordyn Faulkender, Cutter Neitzel, and Mia Morrow were prom servers.
The photos in this article were taken before the Prom and at the Promenade.
---
Bailey Workman, Danny Broughman, and Lyden Lampe
---
---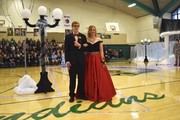 Connor Keller and Taryn Fleckenstein
---
Click on the photos to see more photos!