Career Day A Success
---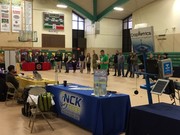 Principal David Morrow makes introductions and gives initial directions.
---
The 2019 Cheyenne County Career Day was held on Monday, March 25, at St. Francis High School. Students in grades 6-12 from both Cheyenne County Schools (Cheylin and St. Francis) attended. The students were divided into small groups and assigned to attend different career presentations according to the student's interest. Many local businesses, area post-secondary schools, and career fields were present to deliver information about career choices and preparation.
The Career Day was organized by Janell Potorff and Tammy Grice (with help from others). The day was well organized, and the students seemed to enjoy and benefit from the experience.
This was the second annual Career Day. The 2018 Career Day was held in Bird City.
Below is a list of career fields and presenters for the Career Day.
Air National Guard - Cyber Security and Intel Click this link to view Facebook article.
Allison Grice - Pre-School Education
Colby Community College - Veterinary Nursing Program
Colby Community College - Solar and Wind Power
Cheyenne County Hospital/Lab - Laboratory Technician
Cheyenne County Hospital/Nursing - Nursing
Cheyenne County Hospital/Respiratory Therapy - Respiratory Therapy
Cheyenne County Sheriff - Public Safety
Eagle Med - Medical Flight Team
Hand in Hand Therapeutic Touch - Massage Therapy
Krien Pharmacy - Pharmacy
Navy - 200k Scholarship
Navy - Special Ops
Navy - Nuclear Engineering
NCKTC - Plumbing Heating and Air Conditioning
NCKTC - Culinary Arts
NWKTC - Virtual Auto Paint Simulator
NWKTC - Computer Digital Design
NWKTC - Cosmetology
NWKTC - Crime Scene Investigation
NWKTC - Engineering Technology
NWKTC - Mobile Application Development
Scott Carmichael - Education
SFCHS Technology Dept. - Construction Technology
Speech Therapy - Debbie Grace
St. Francis Equity - Ag Management
Cheyenne County Hospital - Business Management
Tri-State Irrigation - Agriculture/Irrigation Technology
Western State Bank - Banking Management
Yost Implement - Agriculture/Agri-business
NCKTC - Business Administration
Cheyenne County Hospital - Physical Therapy
Sherman County EMS - Emergency Medical Services
Several different post-secondary schools and military organizations were present in the Expo area (high school gymnasium) for student to visit with. Those represented included the following:
Kansas Wesleyan University - admissions
North Central Kansas Technical College (NCKTC) - admissions
U.S, Army - recruiting
Colby Community College - admissions
Garden City Community College -admissions
U.S. Navy - recruiting
Wichita State University - admissions
Emporia State University - admissions
Northwest Kansas Technical College (NWKTC) - admissions
University of Kansas - admissions
Dodge City Community College - admissions
Nebraska College of Technical Agriculture - admissions
Wyoming Technical College - admissions
Click the photo to see more photos!