AH Kill Shot! The Saint Francis Indians Defeat the Cheylin Cougars
---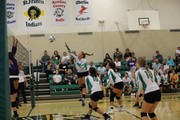 Photo by Cutler Mayer
Jordan Faulkender, sophomore, strikes a blow against the Weskin Coyotes as she spikes and scores a point for the team. The Lady Indians ate the Weskin Coyotes' supper in a crushing victory against them.
---
The Cheylin Cougars and Saint Francis Lady Indians played an arguably intense volleyball game on Tuesday, September 10th, in Saint Francis. Both teams had already defeated the third team, Weskan, in games 1 and 2.
The Cougars started the match off with a two-point lead, but their run didn't last long because Saint Francis scored the next 11 points. Though the Cheylin Cougars continued to score points, Saint Francis kept going on their run to win the first set 25-16.
Sophomore Mia Morrow for the Saint Francis Lady Indians said, "We had fun playing as a team and learning communication is key in every circumference. Once you lose communication and focus, you lose the game. But hey, we didn't lose!" Morrow was an outside hitter and a defensive specialist.
In the second set, Saint Francis scored the first point, but Cheylin caught up with them to score the next few points. The set was so close that the score was tied up 11 times.
The Cougars and the Indians kept climbing up the scoreboard until Saint Francis got the momentum back to score the last five points of the set, ending the game with a score of 25-20.
Freshman Molly Gilliland for the Saint Francis Lady Indians said, "It was a fun game andb"I think we got better as a team. It really requires us to communicate on the highest level possible." Gilliland was a setter for the Lady Indians.
Saint Francis and Cheylin both played well. The efforts the teams gave was all around intense.
"The game was really fun and I thought we really improved during the game," Freshman Jesslynn Houtman said. Houtman was a middle hitter, and a defensive specialist for the Saint Francis Lady Indians.