Running Through The Hornets
---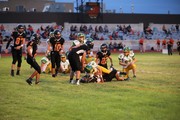 Photo by Ellee Krien
Ben Busse, freshman, gets stopped right by the endzone. Busse said he wasn't down yet so it should've been a touchdown. "My body was over the plane of the goal line so it should've been a touchdown," said Busse.
---
Winning with authority Thursday night, in Dighton, Kansas, the Indian football team blanked the Hornets by halftime, 46-0.
"It was fun to see all the players get into the game," Junior Shadryon Blanka said.
Starting off on defense the Indians held the Hornets and blocked a punt to get the ball and scored the very next play. Adam Krien, junior, blocked a punt with his helmet. "I could tell the kid across from me was a younger kid so, I knew I had a chance to block it," Krien said. "I went in and put my hands up and felt the ball bounce off my head."
At the end of the first quarter, the Indians were up 32-0. By that time, substitutions were made so the rest of the Indians got more play time. "It was a fun game to play as a team and it was a good team win and we keep improving," Senior Brady Dinkel said.